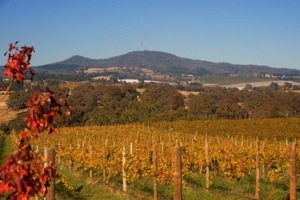 "Other people aren't the scariest part of prison…it's coming face to face with who you really are. Because once you're behind these walls, there's nowhere to run, even if you could run. The truth catches up with you in here…and it's the truth that's gonna make you her bitch." – Piper Chapman
In 1997 the Australian Wine and Brandy Corporation accepted the definition of the Orange wine growing region as the contiguous land above 600 metres in the Shires of Cabonne, Blayney and Orange city. Definitions cut both ways. They give you an identity, a sureness of place, a firm footing. But they also confine and constrict – there is almost a punitive dimension to their workings. Once you assume a definition you must work within its boundaries. This is no game of costumes and masks. Orange is Orange. It's defined by the ambiguity of its name, the lofty heights which frame it, its relative youth, its set of soils and its environs. This is a cool-climate land. Viticulture and oenology are in their infancy. It isn't to be confused with the heat bowl of Cowra nor does it have the deeply set traditional foundations of the Hunter Valley. Scepticism about the region's worth is common enough amongst the media and industry. It sometimes extends as far as derision. The week before I embarked on a trip to Mount Canobolas and its surrounds I watched on with interest as a ubiquitous question arose on another wine forum. 'What does Orange do best?"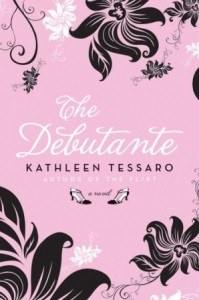 "Maybe this is a bad time to say hi, huh?"
Orange does have a past. It is not without history. Stephen and Rhonda Doyle of Bloodwood established themselves in the early 1980′s. Around the same time John Swanson planted the initial vines for Cargo Road Wines and Canobolas-Smith. The latter was purchased shortly afterwards by fellow Roseworthy graduate and friend Murray Smith after Swanson recommended he move to Orange. James Sweetapple, Charles Lane and Brian Walters took control of the Cargo Road operation in 1997. All three producers have made some extremely impressive wines. Bloodwood is known for its elegant take on Chardonnay and its ageworthy Riesling,  Canobolas-Smith has runs on the board in terms of Bordeaux blends and Chardonnay while Cargo Road Wines' exquisitely perfumed Gewürztraminer is as noteworthy as its perfectly balanced Riesling and high-voltage Zinfandel.
That chatter around what Orange does best centred on whites – specifically Chardonnay, Riesling and Sauvignon Blanc. One astute commentator also mentioned Merlot Cabernet Franc blends. After three days of immersion in the region I think the value of that last category can't be overstated. One of the issues with those 'Bordeaux' grapes and blends lies in the circumstances which led to many of the plantings in Orange. When Australia's wine boom took off in the 1990′s short-sightedness was in great supply but the grapes to cope with the perceived demand were not. The big companies saw a need for more fruit, so with scant regard for suitability of place let alone any thought of the obstacles that might lie in the future, more vines were planted. Need more Cabernet? Then lets just whack a few hectares in at an altitude of nigh 1000 metres above sea level. Of course such plantings could only produce ripe fruit in very warm years but most of these people weren't asking questions. Thus we have the likes of Charlie Svenson (De Salis Wines), who was mentored by Murray Smith, still grafting Cabernet Sauvignon over to more suitable varieties at his 'Lofty Vineyard'.
Way before Orange (and many other regions) could work out who it was, it had been misidentified…miscast. These days Orange is a wine region fast finding its feet. It's going to take time, sustained effort, exploration and persistence but in terms of the quality of wine that can be produced the region is a willing and ready débutante.
Unfortunately the conditions it faces as it presents itself to the wider wine world aren't as kind as they were. Fierce competition in the domestic and export market from both Australian and abroad, an over-supply of grapes that just doesn't seem to be drying up and more than a few challenging vintages have stacked the deck against it. Still, no one I spoke with over three days displayed a sense of entitlement. There was little in the way of spin and owners and winemakers hadn't frocked up for my arrival. My questions were greeted with thoughtfulness and honesty. The industry in Orange knows it has a lot of hard work to do and it's looking steadfastly into the mirror. The gaze of an increasingly erudite vinous public won't be avoided. It's time to say hi.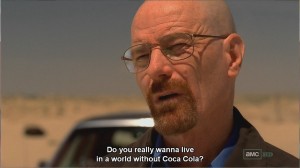 "Best is the enemy of good" – Voltaire
"Yours is just some tepid off-brand generic cola. What I'm making is 'Classic Coke'…Do you really wanna live in a world without Coca Cola?" – Walter White
Online wine enthusiasts are a funny bunch. We tend to hang out in a lot of the same places and with that comes a sense of familiarity. The prevailing zeitgeist isn't that difficult to detect most of the time. Among this niche group (of which I consider myself a member) the most common critique of wines from Orange is that while solid, they lack excitement. Let's take a look at Chardonnay for instance. Tumbarumba sourced wines are gaining rave reviews but there is less fuss made about those from Orange. Most consider them to be clean, linear, elegant and pleasant but not that complex. Some attribute this to the prevalence of the I10V clone and I believe the intentions expressed to expand the diversity of clonal material will pay dividends. There is talk of introducing Mendoza and 1066 among others in the future and owners as well as vignerons generally acknowledge that this may be an issue. Vine age, an evolution in the understanding of sites and increased exploration of winemaking techniques should all play a role in more exciting Chardonnays coming out of Orange in the future.
But that's not to say there aren't some very good examples of the variety already. Drew Tuckwell's Printhie MCC Chardonnay 2011 looked a better wine than when I last saw it. The mid-palate had filled out, full barrel ferment contributed texture while smoky notes and funk accompanied the cleaner fruit driven characters and buttered popcorn. The real stand-out though was the Ross Hill Pinnacle Series Chardonnay 2012. Struck match, green apples, citrus, spice and pear with a textural overlay amounting to a wine that lacked nothing in terms of complexity, detail, interest or execution.
On the last afternoon of my stay I had the opportunity to spend a bit of time with a De Salis Chardonnay 2004 and get a look at how these wines might age. There's plenty of natural acidity coming from the sites situated at higher elevations and this bottle was looking superb at around ten years of age; nutty, toasty and developed traits present in layers with the acid driven architecture suggesting that its peak drinking window would be open for a while yet.
The most pressing problematic for Orange – and not just in terms of Chardonnay – might be the small number of actual wineries and winemakers within the region. We're talking about 7-10 vignerons with the rest of the wines sent out to be contract made. Often that results in the product being vinified in a generic and commercial manner. James Sweetapple, who makes the Cargo Road Wines himself on-site, offered the following analogy; "if you ran a retail joint, would you monitor it? You have to monitor it. You have to suspect that something may be going wrong." It's not an easy issue to solve. Building a winery isn't cheap and travelling to the Hunter Valley where your wines are made in order to taste them regularly may not be viable. There is advancement though with Ross Hill now fully functional, Cumulus Wines available for contract winemaking within the region and the continued extension of Philip Shaw's winery.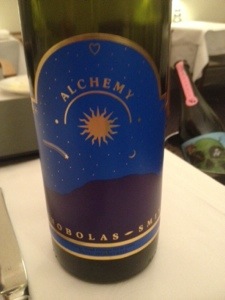 "Let's celebrate how totally fine you are with everything."
So what does Orange do well? Before I focus exclusively on varieties I'll note that most of the finished wines I tasted came from two wet and cool vintages. 2011 and 2012. The only sorting table I came across was at Philip Shaw. Other producers chose to select their grapes carefully in the vineyard and drop anything diseased. While some of the reds were too light for high ratings a surprising number had survived the conditions well. Winemaker Debbie Lauritz pulled out a Cumulus Shiraz 2010 to look at beside the 2011. We both agreed that the 2011 showed more finesse and was more representative of its cool-climate origins. It was 'the better wine' but there was little doubt in my mind that a lot of consumers would prefer the very ripe and masculine profile of the 2010. The Ross Hill Pinnacle Series Shiraz 2011 was another highlight. I encountered little in the way of grubby, botrytis riddled wines which indicates the region has a good grip on how to deal with disease pressure.
There appears to be a movement within Orange to look towards residual sugar for balance when it comes to Riesling. I like the concept and most of the wines I tasted would be consumer friendly. Breadth of flavour without tipping over into off-dry territory. At the same time I believe a corresponding amount of focus and length was too often being sacrificed in order to round out the acid. The Cargo Road Riesling 2013 seemed positively classical within a bracket, displaying great form, aromatics and chalky texture. It was only when I tasted it more thoroughly the next day at the cellar door that the nine grams of residual sugar came into relief. Cargo Road seem to have nailed it but finding the right balance between sweetness and acidity will be an iterative process that takes time.
Experimentation with whole bunches in Shiraz (and Pinot) seems to be paying off. Drew Tuckwell has been impressed enough by trial results to explore the technique further at Printhie and Daniel Shaw showed me some impressive batches in barrel during a visit to Philip Shaw Wines. A couple of Pinot Noirs indicated that perseverance with the grape can and has reaped rewards. Tom Ward's Swinging Bridge MAW Pinot Noir 2010 possessed an alluring perfume, good energy and a long spicy coda. Over at De Salis, the Lofty Pinot Noir 2011 exhibited depth, fragrance and silkiness with rippling whole bunch tannins.
A number of the 2012 Sauvignon Blancs went too far into the asparagus spectrum but the 2013′s looked solid. The region is successful with the grape even if it doesn't excite me much personally. What did excite me was the 2013 Merlot, Cabernet Franc and Cabernet Sauvignon in barrel. A warmer vintage seems to have brought out the best in these varieties with even the 1050 metre altitude of the Lofty Vineyard not preventing the De Salis Merlot grapes from achieving ripeness and depth while maintaining varietal character. Daniel Shaw remarked that it was his aim to make the best Merlot Cab Franc blend in Australia and he'll have a shot at it judging by the batches I tasted. Cumulus have promising material to work with as well.
A bottle of Canobolas-Smith Alchemy 2005 – a blend of 90% Cabernet Sauvignon and 10% Cabernet Franc – shared over dinner on my final night reinforced my enthusiasm for 'Bordeaux' varieties and blends in Orange. Of course, as Peter Hedberg  (co-author of the "Orange Region Terroir" booklet) put it, "a complex overlying matrix of elevation and soil type" means that finding a hero variety in Orange is always going to be a difficult task. Perhaps the region is an all-rounder of sorts. Its diversity may end up being its strength. James Sweetapple doesn't seem to bothered by the idea. "People want diversity and we can provide that. I want to attract people who love wine and are interested in what we are doing. Ultimately good wine sells and I'm selling good booze."
Orange's geographical identity is quantifiable but its emergent identity is the more interesting story. They're literally and figuratively on the map now. The rest of us have the luxury of watching from the sidelines as they discover their own truth.
"The truth is that I never shook my shadow
Every day it's trying to trick me into doing battle
Calling out 'faker' only get me rattled
Wanna pull me back behind the fence with the cattle
Since this, I've grown up some
Different kinda fighter
And when the darkness come, let it inside you
Your darkness is shining
My darkness is shining
Have faith in myself
Truth." – Alexander Ebert