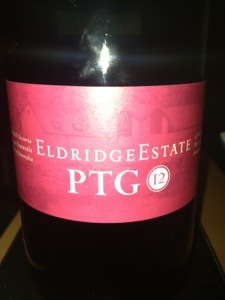 A blend of equal parts Gamay and Pinot Noir, thus the name PTG – a reference to Bourgogne Passetoutgrains, a cuvée of the two grapes. It's typically big on drinkability with less emphasis on complexity – a wine designed to be consumed young. This is a fine expression of the style. Of course, what the word 'drinkability' conveys is open to debate.
In Julian Coldrey's review of this wine at Full Pour, he refers to one interpretation: "drinkability is often code for a simple quaffer, something not worth much thought or respect. As if good wines are somehow above being drunk" and goes about separating his use of the word as a descriptor from that interpretation in his very positive notes on the wine.
I tend to see things from a slightly different angle; and it's a subtle distinction. These days many wine commentators are welcoming styles that drink well early and giving them as much or more credit than a lot of those age-old monoliths that clog the Langton's Classification list – the one's you'd struggle to drink more than a glass of (and the ones that are often bought to admire rather than consume). When I read a competent wine writer refer to 'drinkability' this is usually the context in which I take it…as an enthusiastic positive. Anyway, enough semantics and to the wine.
Light bodied with extremely jaunty acidity adjoining sour cherry top notes. The mid-palate introduces raspberries and a slightly sweet, confected bubblegum note. The coda is savoury and spicy with cola, herbs and pepper. Just enough tannin to refresh. Basically, it's a delightful wine that is the very definition of more-ish. And that ain't bad. 91 Good – Very Good
Region: Mornington Peninsula
Alcohol: 13.0%
Closure: Screwcap
Price: $25
Tasted: November 2012