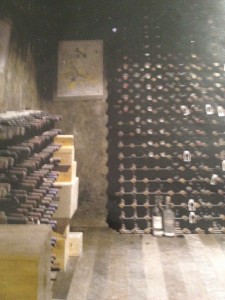 I first read about Yalumba's famed cellar in an article by Campbell Mattinson; "The mystery room, the locked door, and the Yalumba wine library". An inspirational piece. You'll need a subscription to read it but the quote which stuck with me came from Robert Hill Smith, Proprietor and Vigneron at Yalumba – "There's a whole generation of drinkers that have never known really old wine, partly because a lot of these wines are rare, and partly because a lot of them have become so bloody expensive. Unless we put some of these wines in front of people, they'll go on in their wine lives with blinkers on". I was part of that generation. At the time of publication (2007) I doubted the blinkers would ever be removed from my eyes. Surely I would never have the chance to glance behind the locked door. But I longed. And I hoped.
Up until the April 16th, 2012, Yalumba had opened their library just 16 times, dating back to 1977;
"the majority [of library tastings] have been 'invitation only' events for our trade friends and supporters, providing us with an opportunity to share a few old gems, local and imported, from 'the Den'."
This time Yalumba took a different route, taking a number of rare and priceless wines around Australia and allowing the general public a chance to witness Australia's vinous history through a selection of irreplaceable bottles. That alone should be applauded. A few of us were even lucky enough to get our names on the door. My longing had been fulfilled and I'll take the time to acknowledge Yalumba's generosity right now. The blinkers have truly been lifted. Those that cling to the notion that Australian wine cannot age are now the blind.
Louisa Rose, Yalumba's chief winemaker stressed that this collection of 18 bottles were not chosen as beacons or highlights. They were there to give you a feel for the past and to celebrate "how alive the wine is in the bottle and in people's lives". Indeed, she suggested that not every one of these wines were bottles which she would really like to sit down and drink. Having said that, there were very few curios here. Most were startlingly vital for their age, possessing primary fruit which at times defied belief.
The first bracket of Riesling got things off to a great start. With wines as old as 70 years on display one would have expected things to only start heating up after the first few glasses, but a Pewsey Vale Contours 2002 put paid to that notion. Bursting with lime/lemon and florals, bath salts and spice with just a suggestion of toasty development, this was as exciting as any of the first four wines – a testament to Robert Hill Smith's statement that "wines like these were still being made to age". Under screwcap god only knows how long this will live…and, just as importantly, improve.
The Yalumba Carte D'or Riesling 1979 was displaying signs of overt kerosene and showed a golden hue in the glass. Fresher citrus remained intact, although the mouthfeel had softened and there was a hint of wet hessian. The next two wines had varying levels of madeirisation. A Yalumba Cart D'or Riesling 1966 offered peach, mandarin, citrus and marmalade under the somewhat oxidised surface. More thrilling was the Yalumba Eden Valley Riesling 1942. Caramel and raisin high notes but the citrus still raged against the dying of the light. This was made in the era before refrigeration (around 1960), when winemakers would throw blocks of ice into the ferment in an effort to control the temperature. No one could be certain that it was 100% Riesling, but despite a sherried edge it still provided great pleasure.
The next wine threw up some interest in terms of debate amongst the panel and audience. I found The Virgilius Viognier 2003 to have matured nicely, perhaps losing a little shape but gaining musky complexity without losing vitality. Ken Gargett (whose palate I greatly respect) was not taken with it. Louisa, honest as always, pointed this out, letting the audience know that Gargett had asked her if she was "happy with it". Regardless, the overwhelming feeling in the room was that the wine had aged well – an important step for Australian Viognier. Just wait until the 2009 release reaches nine years of age…I think the doubters will be silenced by then.
Onto the reds then. Rose spoke about Yalumba's commitment to Cabernet Shiraz blends and admitted that their production of Shiraz was "perhaps, more opportunistic". Of particular worth amongst the Shiraz(es) was the Yalumba Reserve Clare Valley Shiraz 1995. A more regional expression of a Clare red would be difficult to find. Menthol, blackberry and olives combined with a hint of sauvage. Fine tannin kept the wine in great shape, allowing the primary fruit to sing. Unfortunately, a Reserve Barossa Shiraz 1993 was marred by brett; at least for me. Others found it less problematic, so perhaps it was just an issue of personal sensitivity.
Almost all of the Cabernet Shiraz wines were of worth, ranging from an elegant FDR1A 2000 to Yalumba's The Signature 1991 which was brimful of raspberry with layers of spice, earth and sweet truffle. A 1970 version of the same wine had sadly dried out and was a rare disappointment. Still, this was more than made up for by a stunning Yalumba Cabernet Sauvignon Claret 1959 which smelled of red dirt, soiled linen and capsicum…none of which dominated detailed fruit.
The fortifieds followed and all three were in magnificent shape. But I'll concentrate on the centerpiece; a Yalumba Tokay 1908 made in the vintage style. It possessed incredible intensity with golden treacle, heaps of spice, raisins, fruitcake, earth and rich dark chocolate. Viscous on the palate and with seemingly unending length, this was a 104 year old beauty come to back to vivid life. A fitting finale to an incredible night at the museum.
I'll leave the last word to Robert Hill Smith; "To know where you're going, it's wise to reflect on where you've been". We should all be thankful to Yalumba for allowing us the opportunity to do so.