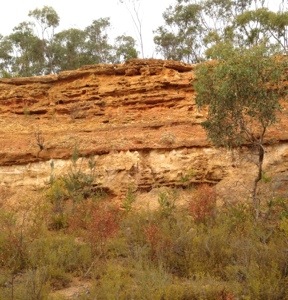 The Scarce Earth project is the brainchild of Dudley Brown and Adrian Kenny, who worked together at Inkwell Wines for a number of years. It's an exploration of the diversity of McLaren Vale's terroir through single vineyard Shiraz wines from the region. The idea was conceived in 2004 and the 2009 vintage saw the first bottling of these wines under the Scarce Earth logo. Recently I attended a tasting of the 2011 releases which are only available via cellar door until August the 1st. It's a way to draw visitors to the Vale and engage them at a deeper level. An educational/tourism side to the endeavour if you like.
McLaren Vale winemakers are invited to submit wines which are then assessed by a panel of six. For the current releases this consisted of writers Huon Hooke and Louise Radman, Master of Wine David LeMire and winemakers Michael Fragos (Chapel Hill), Chester Osborn (d'Arenberg) and Charles Whish (Serafino). The criteria for inclusion stress minimal oak interference and wines that are neither excessively ripe nor under-ripe – the latter probably not such in issue in the previous two vintages. Transparency of site is crucial if the endeavour is to eventually achieve its aims. The wines that made it through are not from the region's "Grand Crus". Any attempt to establish such a hierarchy, even if desirable, is a long way off realisation. These are really just the embryonic attempts to discover what different subregions, sites, geologies, mesoclimates and microclimates may offer in an individual and unique sense. The assessment of the quality of certain sites isn't the focus right now.
Of course, it's almost impossible to taste wine without the idea of quality being present in some manner so let's get this out of the way. One of the clearest results of this year's tasting was the torpedoing of the myth that good wine couldn't be produced from the extremely wet and cool 2011 vintage. Indeed, I would argue that for many producers 2011 offered an opportunity to look at their particular patch of dirt and the fruit it produces in a different manner. Perhaps some will make a concerted effort to interpret their terroir in a more elegant manner after tasting results that may have had more to do with the conditions and practicality rather than overt desires for representation of single blocks and vineyards. Mind you, the elevated levels of natural acidity which animated many of the wines won't be reproducible every vintage.
The second aspect to become apparent was that in comparison to the 2010 Scarce Earth wines (most of which I tasted with Adrian Kenny last year), oak had been toned down further. I would like to think that this is a case of McLaren Vale producers buying into the concept but it could just as easily be attributed to winemakers believing that the lighter bodied fruit borne from the season was not suited to a heavier oak regime. Either way I found it to be a blessed relief.
Finally, before getting down to some of the wines in question I would like to add that I believe this is a long-term iterative process. I suspect any understanding of the impact of geology on subregions and individual sites will involve repeated bottlings and tastings. I am not a geologist, let me make that clear. Still, separating geological influences from other factors such as climate, aspect, soil, viticulture and vinification seems to be a difficult task when only three vintages of Scarce Earth wines have been produced to this date. I'm not saying geology doesn't affect the profile of wines within McLaren Vale. I'm just stating that I think it's too early to make any definitive judgements based on the sample of wines that have resulted from the initiative so far.
WINES WORTH SEEKING OUT
Regular readers of Wine Will Eat Itself will know that I'm not in the practice of scoring or publishing comprehensive notes based on the tasting a wine over the course of about two or three minutes. However some of the 23 wines stood out. Here is a list of my favourites. I believe they showcase the heterogeneous nature of McLaren Vale's vineyards and wineries.
Chapel Hill The Chosen Road Block Shiraz 2011 ($75)
A surprising winner over the House Block, which I have preferred in both of the previous years. Vineyard block responding to vintage. More vitality and spice, gossamer tannins and very good length. Offers a savoury dimension I've not witnessed in previous releases.
Chapel Hill The Chosen House Block Shiraz 2011 ($75)
Might have been beaten out by the Road Block this time round but it's no slouch. Black fruits, earth, salted licorice and chocolate oak. Refined tannin. Not as much pepper spice as its sibling.
Halifax Per Se Block Shiraz 2011 ($65)
Finesse and minerality. Oak hardly noticeable. Very floral and lit up with white pepper on the palate. I've not tasted a Halifax wine before but I'm hoping to familiarise myself with them soon.
Inkwell Scarce Earth Shiraz 2011 ($40)
Muscular and structured. Has density and richness but it's all underpinned by rippling tannin and integrated acidity.
Battle of Bosworth Braden's Single Vineyard Shiraz 2011 ($45)
Red and black fruits, florals, juicy acid, powder-puff tannins. Not overly complex but very fetching nonetheless.
d'Arenberg The Piceous Lodestar Shiraz 2011 ($102)
An opulent wine within the tasting. All black forest cake, vanilla oak, earth and pan juices. Supple with embedded acidity seguing seamlessly into savoury tannin. Perhaps a bit too much oak for the experiment but taken on its own merits there's balanced yet hedonistic pleasure on offer.