I arrived at the Stokehouse restaurant on the Brisbane river last month and said a brief hello to Heathcote Estate head winemaker Tom Carson, before taking a seat and tasting through nine vintages of the winery's Estate Shiraz and a tenth wine, the newly released 2009 Block F Shiraz. Carson has always struck me as a dead ringer for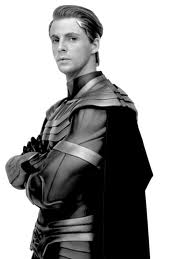 Ozymandias in the film adaptation of Alan Moore's politically charged graphic novel "Watchmen". He's not a villain, or a vegan for that matter, but he seems to share the same degree of foresight and intelligence attributed to that fictional character. As for the poem by Percy Bysshe Shelley, I doubt Carson's 'empire' will be fleeting – although that poem does suggest that all empires, in some sense, inherently are. His work at Yabby Lake, Heathcote Estate and Serrat (a producer in the Yarra Valley owned by Nadège Suné and Tom…who gently and correctly chided me for not being aware of this, as if to encourage me to do my research if I wished to continue with this wine writing caper) is in its infancy but I suspect he'll leave an enduring legacy once his work is done.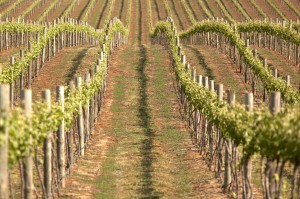 The Vineyard and the Winemaker
The 72 acre Heathcote Estate Vineyard was planted predominately to Shiraz in 1999 on a rich vein of Cambrian Soil, known in particular for its water retention capabilities which have no doubt served it well during periods of extended drought in the region. The Shiraz has received acclaim from James Halliday upon the release of each and every vintage while Campbell Mattinson has mentioned that it is a wine that has often underwhelmed him in the past, especially given the price. Mattinson also noted that 2006 and 2007 have seen things looking up. On the basis of this vertical I'd be inclined to agree with the latter sentiment, although the inaugural 2002 and the 2004 are both drinking well at the moment.
Carson arrived at Heathcote Estate in 2008 and blending the 2007 was his first input into a finished wine. It's interesting to note that before he took up his position around 2-5% of Grenache was incorporated into the Estate Shiraz. I asked Tom why he had chosen to leave it out; "I didn't see the point of it. You need more than 5% to make a difference." Vintage conditions withstanding I believe you can see improvement in the wine since Carson took over the reins. He emphasises that what you leave out of the wine is as important as what you include. "There wasn't perhaps the same attention to detail as I would have liked when I arrived at Heathcote Estate." And all it takes is one look at the booklet which accompanied this vertical to see what a stickler for detail he is…
An exhaustive range of data is provided in it. For the sake of brevity I'll concentrate on the three factors that the winegrowing and making team believe to have been the biggest influences; Mean January Temperature, Rainfall and Heat Factor (measured according to a weighted system taking into account days over 35 degrees and days over 40 degrees). These factors are summarised in a "Vintage Climate Data Summary" table with a quite ingenuously devised total score. I'll just stick to worded descriptions provided in the table key for each vintage.
The wines were presented blind in two brackets – odd years and even years. Carson remarked that "there [was] a conception that even vintages are better." We were challenged to pick which bracket was which and make our own assessment. It wasn't difficult given the information provided. I was surprised to hear that less than 50% of attendees got it right in states outside of Queensland.

The Wines
2002 Heathcote Estate Shiraz
Vintage Conditions: Cool, damp and mild
Herbal, minty and meaty. Instantly identifiable as a cooler year. Complex and evolved with old leather and earthy savouriness balancing violets, blackberries, plums and iodine. Tannins have softened, providing just enough structure yet leaving a beguiling textural quality. 90 Good
2003 Heathcote Estate Shiraz
Vintage Conditions: Average rain, heat and temperature
A hot month in January and the wine exhibits desiccated characters. Currants and earth. Oak very prominent. Quite confected with astringent tannin. 87 Average
2004 Heathcote Estate Shiraz
Vintage Conditions: Average rain, heat and temperature
A very cool January with little in the way of heat spikes during ripening. Extremely dry conditions as in 2003. Balance is a feature here. Fragrant with plenty of primary fruit. Bottle age more evident in terms of resolution of structure than flavour. Black and red berries, plums and mint. Still some life left in this. 92 Very Good
2005 Heathcote Estate Shiraz
Vintage Conditions: Extremely wet, cool and mild
Vegetative, cool year mulch. Still plummy with a dose of eucalypt. Aged characters of tobacco leaf and damp earth very evident. 88 Good
2006 Heathcote Estate Shiraz
Vintage Conditions: Average rain, heat and temperature
An extremely warm January but otherwise quite typical vintage conditions. Concentrated yet vital fruits, flinty minerality, fragrant bouquet and a lovely wine. 93 Very Good – Excellent
2007 Heathcote Estate Shiraz
Vintage Conditions: Warm, dry and hot
Taciturn with structure sitting over expression at the moment. Some spicy fruit underneath. In a difficult place to assess. 91+ Good
2008 Heathcote Estate Shiraz
Vintage Conditions: Extreme dry heat
Something of a triumph over a tough vintage. Red liquored fruits, some baked characters, mint and florals. Dense and tarry with iodine and flint. Quality oak is evident but not overplayed. Structure in balance with the generosity of the season. Not my sort of wine but well made nonetheless. 92 Very Good
2009 Heathcote Estate Shiraz
Vintage Conditions: Extreme dry heat and temperatures
A torrid vintage and it shows in the wine. Cooked fruits, somewhat arid palate. Just didn't work for me on the day. 87 Average
2009 Heathcote Estate Block F Shiraz
Vintage Conditions: Extreme dry heat and temperatures
A stunning wine that traverses the year in which it was conceived with aplomb. 2009 saw the introduction of whole bunches with the F Block incorporating 20%. The block itself sits in the deepest Cambrian soil within a valley in the vineyard. Its powerful and complex, full of character and texturally appealing. Spicy, earthen, floral with deep-set black fruits. 94+ Excellent
2010 Heathcote Estate Shiraz
Vintage Conditions: Average rain, heat and temperature
Another stand out. Blueberries make a surprise appearance, joining violets, black fruits, tar and eucalypt. Juicy and supple with terrific composure and balance. Enchantingly perfumed and a delight to drink. About 5% whole bunches incorporated. On the subject of whole bunches Carson says "I always used them back in the Yering Station days but I never wanted them to overwhelm the wine. They add perfume but when they're overdone I find the wines lack drinkability. I also don't want to lose those fine, powdery tannins we can get in Heathcote." 94 Excellent