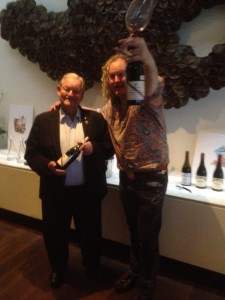 And it's Time, Time, Time…
Chester Osborn, who began his tenure as chief winemaker at d'Arenberg in 1984, was limping ever so slightly as he came to greet me. We were at Urbane for what turned out to be an extremely intimate lunch celebrating d'Arenberg's 100th birthday; just myself and two other writers arrived to listen to his stories, talk with his father – the legendary d'Arry himself – and taste through 49 wines chosen specifically for this tour. I notice the attendance was much greater at the same media event in Sydney. The advantages and drawbacks of being based in Brisbane brought into vivid relief.
The limp was a result of an achilles injury, one Chester suffered whilst indulging in some revelry at his 50th birthday party three nights earlier. It hadn't managed to wipe the smile off his face though. Neither had the cumulative week or more he had spent on planes since this 100th tour began. "The Art of Being Different" – that's the PR spiel which accompanies the d'Arenberg troupe on their travels. I don't generally buy into this sort of stuff but it was a happy surprise to see that Chester doesn't really have to put on a marketing face. All he has to do is be himself. And it's succesful marketing, make no mistake. d'Arenberg continue to flourish both here and overseas. The quirky names of the wines, the laid back larrikin approach – the sense of eternal youthfulness – seems to strike a chord with drinkers.
I've had other questions about d'Arenberg. They've made a large number of very good wines but have they ever taken it to the next level? Have they maximised the amazing resources available to them?
With the release of the "Amazing Sites" range I think, finally, the answer is a definitive yes. The twelve individual vineyards that are blended to make the famous 'Dead Arm' Shiraz have now been bottled separately. They not only emphasise the incredible diversity of McLaren Vale's terroir but in some cases, they surpass the flagship wine itself. Chester remarked that it was only in recent times that they had considered this approach but he wondered why they hadn't done it sooner. It may be fortuitous timing though. Each of these wines sells for $99 and to be succesful they may need the increased interest in terroir and single site expression that we have seen of late amongst wine enthusiasts. But we'll return to those amazing sites soon. We tasted through roughly a third of d'Arenberg's extensive portfolio including back vintages and it's worth taking a look at what else was on show.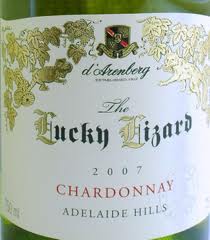 Which Great White Hopes?
d'Arenberg have quite a history when it comes to the of exploration of white Rhone varieties (not just reds). I was intrigued by the absence of these wines and asked Chester if there was a specific reason. "Yeah, we usually have them on show but we thought it was a good chance to get the Riesling and the Chardonnay out there. People haven't focused on them as much." A 'd'Arenberg Rhine Riesling' from 1970 was in interesting curio. A touch oxidised (d'Arry bemoaned the vagaries and faults associated with that bark closure a number of times that day) but offering marmalade, baked spiced apples and honey with some residual sugar sweetness. The 2012 'The Dry Dam Riesling' looked smart and approachable with lime sherbet characters and tropical notes, the 10g/l residual balanced by cleansing and pure acids. A 2008 version of the wine was in a more clumsy place; kerosene and a lack of definition held it back. 'The Lucky Lizard Chardonnay' provided the biggest surprise of the tasting, in the form of the 2007 release. Still extremely fresh and vibrant with the green apple characters that mark the wine year in and year out joined by pear and an impressive mineral streak. Lovely drinking with time on its side.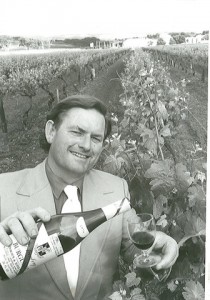 The Rise of Grenache
Change was forced upon the wine formerly known as 'd'Arenberg Burgundy' when the French grew tired of our 'exploitation' of their precious regions. For legal reasons the word 'Burgundy' had to be removed. One door closes, another one opens. This was the beginning of the 'd'Arry's Original Shiraz Grenache' label in the 1990s. The 'd'Arry's' part of that name was a no-brainer. Putting Grenache on the label may have been a different matter.
"They don't grow the bloody grape in Victoria and no-one wanted to buy it because of that" remarked d'Arry with regard to d'Arenberg's eventual decision to varietally label its Grenache and Grenache blends. The winery have championed the grape as much as any other in Australia although according to Chester "it was Charlie Melton who first put the word Grenache on a label".
Of course Grenache has suffered from other issues; being seen as just a blending variety, too much use of new oak, Shirazification. It's viewed in a new light these days as producers come to terms with its vinification and identity. Judging from the aged releases we tasted, d'Arenberg have always been a step ahead of most. Old oak regimes and an emphasis on natural tannin see these wines developing beautifully and becoming more complex and earthen. This is not the place to go into detailed tasting notes but the 06 'The Custodian', 04 and 06 'Derelict Vineyard', and 04 'd'Arry's Original' all put paid to the notion that Australian Grenache isn't suitable for aging. The fact that a bottle of d'Arry's Original will only set you back around $15 makes it one of Australia's best bargains. The 2009 will age well too and is a delicious drink. Much the same can be said of 'The Custodian'.'The Ironstone Pressings Grenache Shiraz Mourvèdre' just takes things to an even higher level.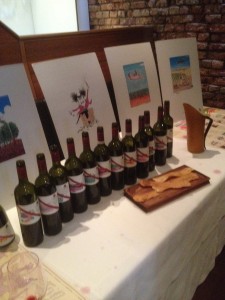 Pass the Shiraz
Up until now, d'Arenberg's flagship has been 'The Dead Arm Shiraz'…and it will take some knocking off its perch. The 2002 and 2005 were excellent wines and although I felt the new oak was more prominent in them than in the 'Amazing Sites' wines, it wasn't out of place. It's archetypal, dense, rich but balanced McLaren Vale Shiraz that's built to last but not soupy or over-bearing. How special it is then, to taste what each of those 12 special vineyards contribute to the final mix. No wonder there are depths and layers in that Dead Arm.
Roughly speaking, we tasted these 12 Shirazes from the 2010 vintage beginning with the more coastal areas of McLaren Vale before heading to the increasingly perfumed, floral, spicy and finessed inland expressions. From the choc mint slice, horse stable and lifted blackberry of 'The Fruit Bat' through to the Asian spiced, red fruited, almost medium bodied 'Swinging Maylasian', each vineyard displayed vast yet intricate differences and confirmed what a good year 2010 was for McLaren Vale reds. With their different geologies, soils and climates this was a lesson in distilled terroir.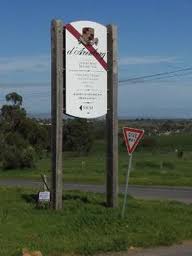 And What Does the Future Hold?
This was the question I had meant to ask Chester and d'Arry, but by the end of the tasting and sitting down for lunch over some of the wines I think I already had the answer.
"A servant to no sweet heart of convenience. No colour of love saw its emotion as evidence. This transaction doesn't tear my soul apart, Just burn a hole in my pocket but not in my heart" – Paul Dempsey, 'The Futurist'

"The future is already here" – William Gibson
The 'Amazing Sites' wines are the future of d'Arenberg. As impressive as the 12 Shirazes were it was the subregional Grenache which shone the brightest for me. $99 isn't cheap but this is the final realisation of a dream that began 100 years ago. An intensely perfumed 'Blewitt Springs Grenache 2010′, with dreamy florals, spice and profound red berries along with 'The Beautiful View Grenache 2010′ with its more introverted depth, fennel laden palate and sublime structure are amongst the finest Australian vinous expressions I've seen. They hold their own with just about anything else the world has to offer and they will only continue to improve over time. d'Arenberg has fulfilled its potential whilst remaining eternally young. Here's to the next 100 years!