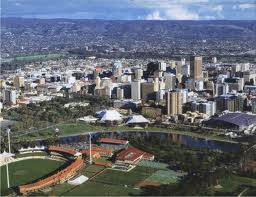 Adelaide
Here I am, living in Australia, writing about wine, talking about terroir and until earlier this month I'd never set foot in South Australia. Heresy! I've always been a bookish type, gathering my thoughts and impressions from 'secondary texts' but I was fortunate enough this year to receive an invitation from the Wirra Wirra winery to attend the famous and much loved 'Woodhenge Cup' – a day of celebrations involving a wooden catapult, watermelon ammunition, a crosscut sawing competition and a gala dinner posthumously commemorating the birthday of Wirra Wirra legend Greg Trott.
After arriving in Adelaide, I pulled out my laptop and pulled up tweetdeck…as you do these days. The opening line of Paul Kelly's much misunderstood ode to the city seemed like an appropriate foray into the twittersphere;
The wisteria on the back verandah is still blooming
And all the great aunts are either insane or dead
It didn't make a lot of sense given that it was early Spring - but neither does social media. Within seconds someone had asked me what I thought of South Australia's capital. "It's very flat". And it was. Flat. And orderly. The neat grid of streets which had led to my hotel would have been boring had their utility not seemed so intelligent - such a charming display of commonsense.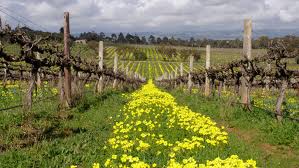 Let the Hills Come to McLaren Vale
The bus to Wirra Wirra the next morning was filled with chatter; surreal introductions to people that I felt I already knew thanks to online conversations, discussion of recent activities and future plans, tips and picks regarding the ongoing AFL finals, Stuart Gregor's ravaged but still booming voice. The 136g/l of residual sugar in a couple of glasses of Mrs Wigley Moscato 2011 made sure that even those of us who hadn't partaken in the morning ritual of coffee were pepped up and ready to go.
McLaren Vale looked resplendent on that sunny day. Rows and rows of picturesque vines split by abundant, bright yellow Soursobs. God, it looked even better than it had in the pictures. I really should get out more.
We were greeted at the winery with oysters and the new release Adelaide Hills whites. The searing acidity that 2011 had produced was clearly evident in both The Lost Watch Riesling and Hiding Champion Sauvignon Blanc with the rizza pulling it off to much greater effect. It was a brave decision to lead with wines from a vintage that has already been so publicly maligned. Wirra Wirra were giving us a look behind the curtain. It was the sign of a producer possessing conviction in the approach they were taking. The word 'challenging' was used to describe the conditions this year but it wasn't employed as an excuse to hide behind.
The 12th Man Chardonnay 2010 was the star of the morning though. A core of grapefruit and white peach complimented by nutty, lees derived savouriness and judicious toasty oak. It wasn't originally in the line up for the dinner that night but Mr Gregor, who ably filled the roll of MC for the event, made sure some bottles made their way around by the end of the evening.

For Whom the Bell Tolls
An interesting disagreement ensued after we were led into the old Wirra Wirra cellar door, to the sound of the Angelus bell,  for lunch. The wines in question? Two 2009 Shirazes, The Catapult and the RSW, along with a recently bottled Woodhenge Shiraz 2010. I was sitting across from Lester Jesberg, editor of the fiercely independent 'Winewise' magazine, and wine scribe Andrew Graham, contesting the merits of each glass in front of us.
I think it's fair to say that Graham isn't mad keen on rich, ripe fruit and I think it's fair to say that while I share his preference for vibrancy, I tend to argue that the sense of plushness that comes from a warm vintage and a certain style is an aesthetic that deserves more respect. We both concurred that the 2010 Woodhenge was the superior wine, possessing a vitality and drinkability that was linked to an even ripening period. Andrew saw an over-ripeness in the 2009s and I picked up a slightly brandied character. Lester begged to differ.
"These aren't over-ripe. They're perfect. The middle glass is a fruit bomb."
I put forward the idea that the notion of over-ripeness might exist on a continuum – one man's 'over-ripe' might be another's 'just right'.
"No. At the end of the day you have to know what over-ripe is. These aren't over-ripe."
At this point Andrew suggested that it was good that the wines had served as a catalyst for such dissonance; that this debate, this discourse, was of worth in and of itself. This is a position for which I have a great deal of time. I believe 'quality' exists but that it can only be approached through the navigation of a discourse. Lester disagreed. He maintained that his experience judging wine shows had taught him to recognise what was over-ripe and what wasn't.
I wondered if there wasn't a seismic shift happening within the realms of wine criticism these days. Perhaps a paradigm was emerging whereby you could express your personal, subjective thoughts on a wine or style and that the issue of the objective 'quality' of the bottle might be dealt with via the variance of opinion and the debate it engenders. Or perhaps I was wrong. Perhaps the fruit in those 2009 Shirazes just wasn't over-ripe.
An Unlikely Couple
McLaren Vale is still synonymous with Shiraz. Until 2010 Wirra Wirra's Flagship collection contained two Shirazes and a single Cabernet Sauvignon with no other variety represented. That afternoon we partook in a blind tasting of brackets of Grenache based wines and Cabernet Sauvignon which included The Wirra Wirra Angelus Cabernet 2010 and the new kid on the block, The Absconder Grenache made in the same year.
The Absconder was up against some heavy hitters including a 2008 Château de Beaucastel, a 2009 SC Pannell Grenache and Torbreck's Les Amis 2009. Stephen Pannell's wine was a revelation. Silken up front but drawn long with fine tannin down the stretch. Red fruited, earthy, meaty and soulful. I had the Beaucastel at the top of the list too. I was of the mind that the barnyard characters complimented the wine, something Stuart Gregor mercilessly teased me about during afternoon tea…but that's another story. The Les Amis was too syrupy sweet and oaky for me (and most everyone else in the room). Wirra Wirra's Grenache came in a close third. Perfumed, floral and feminine. It's a wine with which I'd like to spend a whole lot more time.
The Angelus Cabernet didn't have an easy time of it either with the likes of Wendouree, Balnaves The Tally, Cullen Diana Madeliene and Te Mata Coleraine lined up next to it. I spoke to Wirra Wirra Managing Director Andrew Kay about this 'benchmarking' approach at dinner. We had both spent a bit of time with our heads buried in Paul Kelly's book of memoirs 'How to Make Gravy' over the last year. Kelly had written
No-one ever did themselves any favours putting their lyrics next to Shakespeare's. But it's you, sweet reader, not me I'm doing the favour for.
A noble, if somewhat tongue-in-cheek sentiment. The 2010 Angelus stood up as well to the wines around it as Paul Kelly's lyrics had to The Bard's. It's a wine to look out for, a McLaren Vale Cabernet of elegant leafiness, sure footed structure and regional mid-palate stuffing.

Sawing Above the Competition
We arrived back at the winery that evening, some of us in a more loose fitting description of 'Lounge Suit' attire than others, to participate in the main event; The Woodhenge Cup itself. Anthony Madigan, editor of Wine Business Magazine, held the official record for the fastest time to saw through a hefty log. He'd clocked 18.3 seconds the previous year. It seemed unlikely that anyone would top his performance this time round.
A couple of professionals at the art of crosscut sawing were on hand to give us advice – "Stay low and pull, don't push". Madge offered a bit of wisdom via twitter; "it's ALL in the rhythm". A number of likely candidates including former AFL star Paul Dimattina had their crack at the wood but with one contestant left it was crowd favourite Andrea Frost of 'New Ruby Press' who held the best time at a little over 20 seconds. Paul's brother Xavier hadn't given up on setting a new benchmark though and he sliced through the timber in just 17.8 seconds. Madigan's retort? It must have been a thinner log this year.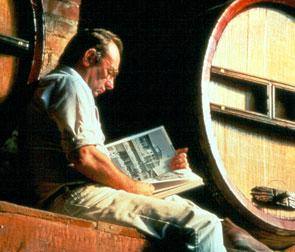 Trott's Gala Dinner
There had been some serious attention given to wines during the day but from the moment we arrived, the Wirra Wirra tribe had emphasised that this event was all about fun. It's how they thought Greg Trott would have wanted it. With Super 8mm footage of Trott and his friends screening in the background we sat down to superb regional produce prepared by chef David Swain and his team at FINO.
Some amazing wines were poured. A 1984 Wirra Wirra Hand Picked Riesling proved to be more than just a curio, still displaying admirable verve at twenty-seven years of age. The 1998 Church Block proved that this wine was more than just a consistent performer, it was quite capable of improving in the cellar too. Sitting squarely in its optimum drinking window was a '98 RSW Shiraz.
Outshining all of these was the mythical 2002 Chook Block, a wine that has only been made in '98, 02 and 06. At 15.3% it was most definitely not over-ripe. Exhibiting intense but vital black fruits, asian spice, dark chocolate and red earth in an extraordinary display of balance and intensity, this was a privilege to drink and had years left ahead of it. Only 250 cases were ever made. Wirra Wirra hope to be able to release a 2010 version in the future. I pocketed the metal 'dog tag' from that bottle as a souvenir of the day. Some things you just need to hold onto.