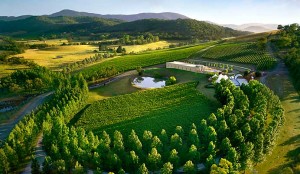 A WILD RIDE 
It's my life
It's now or never
I ain't gonna live forever
The words were Bon Jovi's but they rang out loud and clear from a very unexpected source; wine writer Winsor Dobbin's mobile phone. On the second morning of the Yarra Valley Wine Program 2011, it was the man in the tweed jacket whose ring tone penetrated the austerity that had pervaded many of the brackets of intensive blind tastings and discussion. He looked slightly flustered and embarrassed as he fumbled for the offending instrument but the truth is, he'd done us all a favour. From that point on debate, memorable descriptions and jabs (both playful and biting) flowed, providing a truly fitting climax to what had been a valuable immersion in all things Yarra.
My personal journey began with a wild ride in Steve Webber's four wheel drive. We hurtled down dirt roads to drop off our bags at Steve and Leanne DeBortoli's guest house in Dixon Creek. Fellow blogger Patrick Haddock seemed just as concerned by the speed at which we were travelling as the jibes that were aimed at us by professional journalist Tim White. I was focused on getting to the Healesville pub and settling down with a pot of beer. There'd be plenty of time to defend the noble art of blogging later. In a way, our trip was always going to be dedicated to those apologetics.
That first night was easy. After the beer came the sirloin and a number of impressive wines. We weren't there to take notes but the spicy, stemmy, berry fruited charms of the Bird on a Wire Syrah 2008 had me wishing I'd pen and paper at hand. More familiar to me was the luscious, funky attraction of Timo Mayer's 2006 Cabernet and the perfumed, charcuterie edged Jamsheed Silvan Syrah 2010 – take no prisoners wine making and truly exciting to drink.
Later, in a display of extreme generosity (or foolhardiness) Steve took us back for a glass or two of Rousseau Clos de la Roche 2000. It was arguably amongst the best wines I'd ever tasted and it provided much needed comfort during a passionate discussion about tasting and writing approaches. There's no denying the fact that Tim White and Mr Webber enjoy their wine but I can tell you that it doesn't stop them getting fired up about it. It was an embodiment of a paradox that confronts us when we consider our strong reactions to a liquid which is first and foremost there to provide pleasure.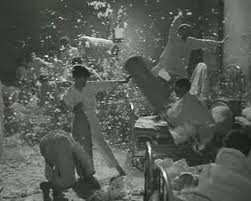 THE DELINQUENT CHILDREN
The Wine Program kicked off properly the next day with a set of wines presented under the heading of 'The Delinquent Children'. The Yarra Valley is deservedly known for its delicate yet vibrant Pinot and the elegant purity and focus of its Chardonnays but as much as a region needs flagships, this bracket exemplified the folly of not taking a closer look under the surface.
The 2010 release of the Hoddles Creek 1er Pinot Blanc, a wine whose short history of production hasn't stood in the way of its ascension to benchmark status, started proceedings on a strong note. It was interesting to hear that De Bortoli had grafted over a number of Viognier vines to the Alsatian workhorse with a view to using it in a future blend. The enticing aromas of tropical fruits, scented apples, flowers and ginger suggested that the variety has a future in the region. A  Yarraloch Arneis 2010 proved persuasive as well. Winemaker David Bicknell summed it up as being "all about the joy of getting a few glasses of wine into you" and whilst I couldn't argue, unfortunately I still had to spit…
There were hits and misses in that first wine bracket but one thing that truly impressed was evidence of an increased engagement with phenolics. What once was considered a dirty word is now being embraced for its ability to enhance texture and complexity whilst increasing food friendliness. Far more than a fad, the sensitive incorporation of phenolics may prove to be crucial to the success of alternative varieties in the Yarra Valley.
Next up were 'The Deliquent Children' reds. Once again, the emphasis was on food friendly styles and light to medium bodied wines – referred to as "import replacements" by Steve Webber. Apart from an over-oaked and clumsy Seville Hill Tempranillo 2008, all the wines hit the mark. Whole bunch techniques raised their head here and they would be at the centre of discussion for the entire event. A stalky De Bortoli Roundstone Gamay 2011 was chock full of brambly fruits and cracked black pepper – a little too youthful but still managing to exhibit promise. Jamsheed's 'controversial' 100% whole bunch Mon Petite Francine Cabernet Franc 2011 received widespread approval just a month or so after it had failed to acquire export approval from the AWBC… a corporation who have probably sparked more controversy with their ponderous decision making than any wine that's pushed the envelope by way of the inclusion of stems!
The 2010 Yarra Valley Chardonnays that followed looked excellent across the board – thrillingly structured with natural acidity and possessing great focus along with genuine persistence. Of a good group, Oakridge's Lieu-dit and 864 shone in a blind tasting whilst the unique properties of the Van Der Meulen vineyard were as clearly evident in the Seville Estate Chardonnay produced by Dylan McMahon as they had been under the stewardship of David Bicknell during the previous two years. Complexity was generally derived from lees more than oak and this seemed to allow a clearer expression of site. There was some discussion of the descriptor "funk" and more than a little mirth when Andrew Calliard, in his precise English accent, addressed the audience with the question "Where does the funk begin?" It should be noted at this point that Andrew did a very nice job of moderating the tasting sessions and I was grateful for the way he made us bloggers feel that our opinions and thoughts were valued.
The quality of 2010 as a growing season was highlighted by a series of aged Chardonnays, mostly from 2007 and 2008. There were some very good wines here but I'd suggest that generally, the current vintages will look a lot better at the same stage of their lives. Indeed, there was debate over releasing the 2010 Chardonnays whilst they were in such a youthful state. I'll opt out of that discussion. It's a two edged sword; if you make a wine that's deliberately approachable in its youth then there's every chance you'll be criticised if it shows obvious signs of development in two or three years. I'm not so sure critics can have their cake and eat it too….
In the evening we were treated to dinner in the magnificent surrounds of Stones of the Yarra Valley. A PHI Pinot Noir 2008 displayed the dab hand that many of us have become accustomed to seeing in the collaborative project between the Shelmerdine and De Bortoli families. Yarra Yering's Dry Red No.1 2004 was as tasteful and claret-like as ever, providing a counterpoint to the more expressive but equally impressive Wantirna Estate 'Amelia' Cabernet Sauvignon Merlot 2008.

STALK DORKS
There was a welcome resurgence of energy the following day, no doubt in part due to some admirable restraint displayed by the program's participants the night before. Two brackets of 2010 Pinot Noir attested to the excellence that the Yarra is capable of, especially when vintage conditions are kind. I was encouraged by Giant Steps winemaker Steve Flamsteed's opening statement; "We're not trying to make Burgundy. We got over that five to ten years ago". If you're trying to explore a region and its terroir then its best not to spend too much time mimicking wines made 15,000 kilometres away.
Amidst wines with an easy going, if slightly simple expression of fruit were some real stars. Timo Mayer's talent was on show in the form of the perfumed but masculine Mayer Bloody Hill Pinot Noir and the spindly but impeccably structured Gembrook Hill – both wines that will continue to improve for many years to come. Kate Goodman pulled off 100% whole bunches with aplomb in her Punt Road Chemin Pinot Noir while Bicknell pushed the stem content to 110% in his confrontational Oakridge 864. For those who found the stalkiness over the top, the Coldstream Hills Reserve Pinot Noir substituted a healthy clip of showy oak and voluptuousness. It's a style that I personally find valid and enjoyable (some of the time) but it was at odds with the other wines around it.

DON'T FEAR THE FRUIT?
I first came across the term 'stalk dorks' in an article by Huon Hooke and if the Pinots had reminded me of it then a flight of Yarra Shiraz/Syrah hammered it home. A liquoreous and slightly hot Medhurst Shiraz 2008 looked positively archaic next to a group of wines that were textured, perfumed, complex and structured. Syrah/Shiraz made like Pinot Noir. De Bortoli's Reserve Syrah 2010 (a damn good wine) presented as the most obviously stemmy wine in the line up at around 70% whole bunches used yet the Jamsheed Silvan Syrah 2010 and the Punt Road Chemin Syrah 2010 used 100% whole bunches. Jamsheed's winemaker Gary Mills had an interesting theory to explain this; at the 100% mark there is less juice in contact with the stems – it was an empirical observation rather than a scientific assertion but it did make sense.
A few wine writers in the room questioned whether the growing use of stems in these wines was a result of the 'fear of fruit'. I preferred Timo Mayer's explanation;
Winemakers tend to make the sort of wines they like to drink. I like stemmy wines, so I make my wines stemmy.
Timo also diffused the notion that stalks interfere with the expression of terroir, pointing out that his stalks grew in his 'Bloody Hill' and that they were more about his site than some wooden cask that came from a place 10,000 miles away. Couldn't have said it better myself Timo…
Dan Sims of The Wine Guide posed a pertinent question to newly crowned Sydney Morning Herald Sommelier of the Year, Stuart Knox of Fix St James, at the end of the tasting. Here I paraphrase; How do you explain a wine with whole bunches to a customer at your restaurant? Knox's response was suitably succinct and spot on although I can't quite remember it well enough to inform my readers here. So I'll leave the last word to the Wining Pom, Patrick Haddock, who suggested that, as a group these Syrahs displayed "a bovine charm".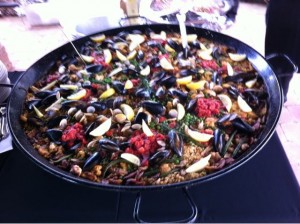 PAELLA AND ROSE
With the hard work done, all parties retreated to De Bortoli's for a gorgeous lunch of Paella, cheese, bread and rosé. It was a terrific way to end the 2011 Yarra Valley Wine Program. On the plane home I ruminated over something Steve Webber had said on day number one. "We're still a very young region. We don't really know what the best variety for each site is going to be". That's an exciting thought. I just hope I'm there to see what the Yarra is doing in 2013.